Precor joined with Peloton to create Peloton Interactive. Precor will only support the Peloton Bike used in commercial settings.
The Precor support does not include Peloton Bike+. We have no information to help with your Peloton Bike+.

Bike Identification
The Peloton Bike manufacturers are Tonic and Rexon.
BE ADVISED: Parts are not interchangeable between manufacturers. There may be some exceptions, and parts are determined by the serial# of the bike. It is important to collect the serial number of the bike needing parts.

The serial number for bikes manufactured by Tonic begins T.

Parts specific to the Tonic version of Peloton Bike begin S.

The serial number for bikes manufactured by Rexon begins with R.

Parts specific to the Rexon version of Peloton Bike begin R.

Serial# is located on the frame near the stabilizer, the user's left-facing side, near the flywheel.

Serial# will be 15 digits, beginning with either T or R.

The next 4 digits are the Year and Month
The next 4 characters are the SKU, bike model
The last 6 digits are the build ID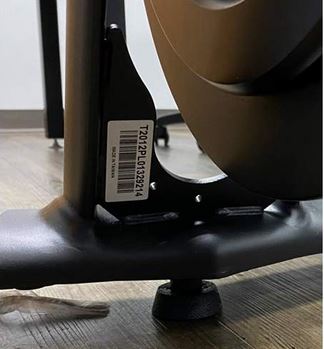 Serial# Example
Maintenance
Recommended maintenance item is Poly Lube 1000, Park Tool part PPL-1, which is a polyurea lubricant.
Gates (belt manufacturer) offers a phone app, Gates Carbon Drive, that can be used to check belt tension. Users with the app can 'pluck belt like a guitar string' to measure tension with the app.